Fill out the form or call the number below for a free consultation with one of our experts.
Webex Meetings
The ONLY integrated collaboration platform that connects people across devices, apps, and workflows for a smarter, AI-driven experience.
Instant meetings
Voice, video and content sharing
Always on personal meeting room
Record meetings
Webex Teams
Make teamwork your best work with this group collaboration app.
Complete team collaboration solution
Powerful mobile experience
Identical experiences for internal & external users
Integrates with essential business tools
End to end security
Webex Calling
Cisco's proven cloud calling platform is used by over 20 million business people worldwide.
A secure global platform
A full-stack collaboration suite
Integrated devices and software
An open and intelligent user experience
Flexible cloud transition paths
Make and receive calls anywhere you have internet access
Seamlessly transfers calls without interruption
Webex Contact Center
 Cisco Webex Contact Center provides contact center staff the ability to improve the customer experience and optimize performance with dynamic, predictive analytics. Cisco Webex Contact Center dynamically predicts each customer's needs and matches the customer with the best agent to handle that need, improving performance, sales, and the customer experience.
Why Cerium for Cisco Webex
We know Cisco
A relationship that has spanned nearly two decades, an extensive list of Cisco specializations, certified consulting, integration and engineering expertise, and over 500 Cisco collaboration projects all contribute to a powerful trademark in using Cisco technology.
We are Cisco Collaboration SaaS Authorized
Collaboration SaaS Authorization ensures that partners have an understanding of the most recent Cisco Webex solutions, in order to design, quote, deploy and support the right Webex meeting solution for any customer.
Collaboration solutions are our heritage
While we didn't call them collaboration solutions 20 years ago – that's how long Cerium has been in the business of designing, implementing and supporting communication systems. Its what we started with and is still our core competency today.
Proven User Adoption Methodologies – Defines the "Why are we doing this".
We're experts in developing user adoption methodologies that can help you identify effective strategies for maximizing end-user adoption before the project even starts. The methodologies employed by Cerium's consultative adoption team ensures business outcomes are defined, obtainable, and achieve desired results. The "why we are doing this" messaging carries throughout adoption making this more than just a training program.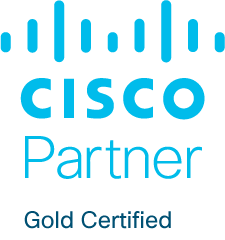 Cisco Gold Certification places Cerium Networks in the top echelon of technology advisers. Combining Cisco expertise with our own value-added services portfolio uniquely positions us to serve as your trusted technology adviser. Maintaining the multiple technology specializations required for Gold Certification means Cerium can integrate technologies to deliver the more sophisticated solutions your business demands.
Secure Collaboration
Webex keeps your information safe with a broad and holistic approach to security in the cloud.
End-to-end encryption
Your messages, files and whiteboard drawings are fully encrypted, right from your device to your recipients' devices. For added control, customers can manage their own encryption keys on premises.
Secure your user's devices
Administrators can manage corporate or personal devices with controls such as PIN lock and the ability to wipe data if a device is lost.
Control what's shared
Users can keep teamwork private by locking spaces so only moderators can add others. Webex Teams integrates with Data Loss Prevention (DLP) tools including Cisco Cloudlock, to protect sensitive information even when users are working with others outside their company, or even block users from sharing files, to maintain company data policies.
App Integration
Integrate Cisco Webex with your favorite productivity apps With Cisco Webex Integrations, you and your team can keep their current workflow without missing a beat.
Webex Devices
Get the most out of Cisco Webex Meetings and Cisco Webex Teams with tools designed for better team collaboration. Webex Devices work together with Webex Meetings and Webex Teams to give you the best possible meeting and team collaboration experiences. Everything's compatible. Everything just works.
Cisco Webex Board
All-in-one whiteboard, wireless presentation screen, and video conferencing system for smarter team collaboration
Room Devices
Intelligent video conferencing devices for meeting rooms of all sizes.
Desk Devices
Simple-to-use and compact video conferencing devices designed for desktops.
Cisco Collaboration Flex Plan
The Cisco Collaboration Flex Plan is a consumption model for any size business that consolidates the services you need under a single contract. Whether your team needs Video conferencing, team collaboration, calling or contact center, you can subscribe to what you need today, and add more services as you grow.