Take a platform approach to strengthen your security posture and reduce exposure to risks while driving down security operations costs with Cisco SecureX.
What is SecureX?
The SecureX platform connects the Cisco security portfolio with your infrastructure to simplify workflows and deliver unprecedented visibility across your entire security environment. Cisco SecureX enables organizations to approach security at the platform level, with more context, enhanced analytics, and simplified workflows to make more informed decisions, respond quicker to threats, and strengthen security across networks, endpoints, and applications. SecureX unifies your security ecosystem. It eliminates the tedious tasks of pulling together alert details from dispersed systems, determining which security events pose a threat, and then connecting all the information to coordinate an appropriate response.
Through customizable dashboards delivered via the cloud, SecureX presents aggregated security metrics and data for analyzing intelligence and responding to threats. The Cisco SecureX real-time dashboard incorporates network, endpoint, cloud, and application data for visualizing threats and gaining actionable insights across your security infrastructure. The Dashboards also support SecureX Orchestration for automating your security workflows to deliver consistent experiences that simplify your security tasks and maximize operational efficiency.
SecureX Platform Dashboard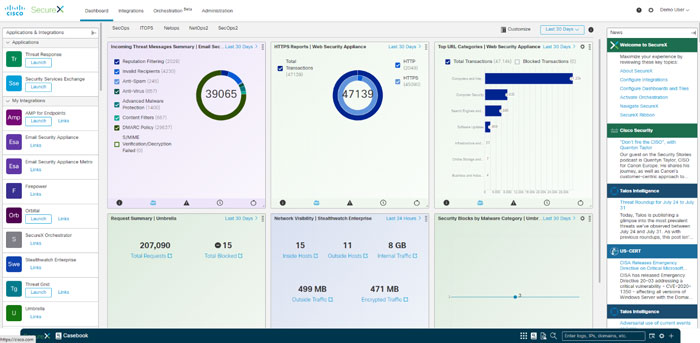 Threat Response is included in the SecureX platform to accelerate threat investigations and remediation. SecureX Threat Response aggregates and correlates data from Cisco Talos and other threat intelligence sources into a single view to automate threat hunting and accelerate detection, investigation, and remediation tasks.
How Can I Get SecureX?
Cisco builds SecureX into all of the products and subscriptions in its security portfolio. No additional licenses are required. Cisco security products and subscriptions that currently integrate into SecureX include:
Cisco Advanced Malware Protection (AMP) for Endpoints
Cisco Threat Grid
Cisco Umbrella
Cisco Email Security
Cisco Next-Generation Firewall (NGFW)/Next-Generation Intrusion Prevention System (NGIPS)
Cisco Web Security
Cisco Stealthwatch
Additional integrations are coming soon. The SecureX platform also exposes a set of REST APIs that enable 3rd party security technology providers to include SecureX support in their products. New integrations with Cisco and 3rd party products and services are being released on a relatively rapid cadence. Look for the SecureX ecosystem to continue growing with additional integrations currently in development by Cisco and their technology partners.
Ready to Get Started with SecureX?
Is your organization ready to start reaping the benefits of Cisco's SecureX platform? Talk to a Cerium expert about unlocking the potential of your Cisco security solution with SecureX. We can help you enable SecureX, optimize it for your specific needs, and train your staff to use SecureX effectively to accelerate your security maturity journey.