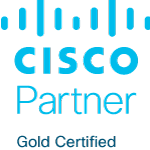 Keeping your workers connected to their coworkers and customers is essential for maintaining productivity and operational continuity in today's fast-changing work environment. Cloud-based communications and collaboration solutions are the key to ensuring business continuity by empowering workers to collaborate securely and effectively from anywhere, at any time. Cisco, the world leader in cloud communication solutions, is offering the flexible, scalable, Webex Work Bundle to overcome the connectivity, collaboration, and security challenges posed by the sudden shift to remote work while positioning organizations to compete and succeed in an uncertain future.
Cisco Webex Suite
Cisco Webex is a complete cloud-based PBX system with a suite of productivity tools for video conferencing, online meetings, screen share, webinars, and more. With Webex, you can make and receive calls on any device from anywhere. It facilitates HD Video and high-fidelity audio online meetings and conferences where everyone is empowered to contribute and share files, images, and videos.
Delivered from the cloud, the Webex suite offers several advantages over on-premises communication and collaboration solutions, including:
Cost-effective, pay-as-you-go, subscription-based pricing
Little to no up-front infrastructure expenses
The flexibility to add and reduce subscribers as needed
Simplified management and less overhead
Built-in end-to-end security that keeps your critical assets protected
Extended capabilities with valuable add-ons such as IP phones, video displays, and other conference room devices
A constant stream of new features, enhancements, and improvements that can be integrated into workflows as soon as they are released
Cisco Webex Work Bundle
The Cisco Webex Work Bundle offers a single subscription for Webex Teams Messaging, Webex Meetings, and Webex Calling. Bundling messaging, calling, and meetings helps reduce the total cost of ownership, conserve capital, and accelerate growth by streamlining the purchasing process and simplifying licensing. The Webex Work Bundle features flexible consumption models for a committed number of licensed users for the subscription term or paying for usage as needed based on daily rates.
Currently, Cisco is only offering the Webex Work Bundle to new Webex subscribers. However, Cisco has a host of flexible payment solutions that make it easier for existing users to afford the right Webex solutions for achieving their business transformation objectives and staying competitive in an everchanging work environment.
See the Webex Difference for Yourself
If you are considering a move to Cisco Webex, the best way to evaluate its capabilities and features is to see it in action. Contact Cerium today for a free, no-obligation demonstration. Our Cisco experts can answer your questions and give you a first-hand look at how Webex solutions can be integrated into your workflows to keep your workers connected as your organization adapts to the new world of work.