Dell Technologies recently honored Cerium Networks with the Channel Services Delivery Excellence Award 2021. Cerium received this award for exceptional performance and special commitment to customers.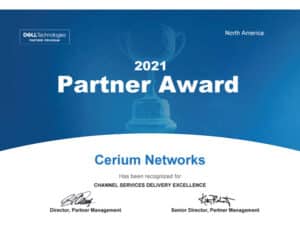 "We are very humbled to receive this award. Our team is focused on quality & excellence. It is always nice when many others recognize that as well. Congratulations and a huge thank you to all the Cerium associates who made this happen. It takes a team…" said Roger Junkermier, when asked how he felt about Cerium receiving this award.
Cerium Networks has been a long time Dell Technologies partner who has invested deeply in services delivery capabilities and methodologies. Cerium has become a trusted advisor to both customer and manufacturer teams due to its large bench of certified deployment engineers.
Advanced certifications held by Cerium include HCI, storage, data protection and hybrid cloud solutions. Cerium is a leader in HCI and data protection implementation and design services and holds expert and specialist level certifications across the entire Dell Technologies portfolio. These certifications represent deep understanding of solutions and the ability to complete projects with a high level of skill on time and on budget for our customers.
Ray Hall, Director of Cloud Services comment, "I joined Cerium Networks from Dell Technologies because of the reputation they had earned for being able to deliver Dell solutions and having a deep understanding of the value Dell provides. Cerium isn't your standard partner; they deploy end to end solutions, provide around the clock managed services and have a deep bench of engineering talent. This award pays credence to those facts."