Is your Microsoft 365 data secure, protected, and recoverable? Your Exchange Online, OneDrive, SharePoint, and Teams data is susceptible to risks such as accidental deletion, file corruption, insider attacks, and ransomware. While Microsoft is responsible for maintaining platform uptime, you are responsible for protecting and archiving your data. You need a comprehensive backup solution to keep your Microsoft 365 data safe, eliminate retention policy gaps, and ensure compliance with legal requirements. You need the simplicity and scale of Druva's industry-leading, 100% SaaS data protection, backup, and recovery platform.



Why Druva?
Druva's cloud-native data resiliency platform delivers the simplicity, infinite scalability, and security of the public cloud to Microsoft 365 data protection and management. Druva streamlines and simplifies the backup and retention of your Microsoft 365 data from an easy-to-use centralized console. Druva complements Microsoft 365 by eliminating data protection gaps and providing critical insights into your data and projects without deploying or maintaining dedicated hardware or software. It ensures your Microsoft 365 data is protected and accessible while keeping your organization compliant with data retention, legal hold, and eDiscovery policies, including HIPAA, PII, and other compliance regulations. Additionally, Druva's licensing for backing up and restoring Microsoft 365 data is straightforward. Licenses are based on the number of users; the software and underlying infrastructure are all inclusive.
Zach Feingold, Senior Systems Engineer at Cerium Networks, offered his thoughts on Druva for 365, "Time and time again, we hear our clients talk about how complicated their backup solution is and the difficulty of managing several different solutions to backup all of their data securely and reliably. Disaster Recovery solutions run in the background, and many IT admins want to set it and forget it. Gone are the days of every organization having dedicated backup admins who are experts in disaster recovery solutions; IT teams are leaner than ever, forcing most admins to become generalists. Whether you are backing up on-prem workloads (physical, virtual, or file servers), O365, or endpoints (Windows, Mac, mobile devices), Druva is all managed from one cloud dashboard and single pane of glass. Druva's backup and disaster recovery offering is one of the easiest. With Druva, you can start backing up users within an hour. No hardware or infrastructure to manage, no lead times to work around, no updates/upgrades to perform, this SaaS solution just works."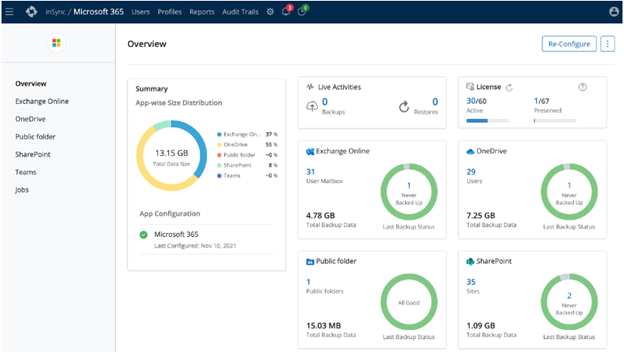 Benefits of Druva's Microsoft 365 Data Backup and Retention
Automation: Druva's continuous backup and unlimited retention ensure all of your files, including open files, are backed up with no file size restrictions.
Reliability: Druva's error-checks and retry algorithms ensure your backups complete successfully and verify data integrity.
Flexibility: Druva enables variable backup frequencies based on user groups with customizable data retention policy enforcement to meet your unique compliance needs.
Efficiency: After the first full backup, Druva's patented global dedupe technology ensures subsequent incremental backups are quicker and take less storage space.
Insight: Druva offers enhanced visibility into unified Microsoft 365 backups to simplify search and enable you easily analyze your data and respond to eDiscovery and legal holds.
Benefits of Druva's Microsoft 365 Data Recovery
Operational Resilience: Druva enables you to detect, investigate and recover from accidental data loss and ransomware attacks. With Druva's automated search and restore, your Microsoft 365 data is restored to its original locations.
Improved Cyber Resilience Posture: Druva's ransomware detection and recovery offer pre-emptive monitoring and notification of Microsoft 365 data risks.
Granular Restore: Perform full or incremental backups of selected Microsoft 365 mailboxes, public folders, SharePoint Online, OneDrive sites, and Microsoft Teams data.
User Self-Serve Restore: Druva empowers users to restore Microsoft 365 data without assistance from your IT team.


Getting Started with Druva for Microsoft 365 Backup and Restore
If your organization is leveraging Microsoft 365 to power your mission-critical operations, you may have data protection gaps. Druva complements Microsoft 365 with a comprehensive, cost-effective, secure, and scalable solution that protects your sensitive Microsoft 365 data, provides critical insights and helps your organization stay compliant with data privacy regulations. Protect your Microsoft 365 data and ensure business continuity with Druva.
Cerium has highly qualified, experienced engineers with backgrounds in data protection and disaster recovery solutions. Whether you need help getting started, ideas on disaster recovery strategies and plans, testing and validation, or a turn-key deployment with advanced tuning and configuration, Cerium can help.