Stop network security threats before they knock on your door
Cisco Umbrella is your first line of defense against threats on the internet
Built into the foundation of the internet, Cisco Umbrella (formerly known as OpenDNS Umbrella) provides security at the DNS and IP layers to stop phishing, malware, and ransomware before they impact your endpoints or network. Cisco provides a secure internet gateway and protection for all devices on and off the network. Cisco Umbrella gives organizations broad protection against DNS security risks, while also simpilizing management with its simple and streamlined dashboard.
Experience the value
of DNS security and safety
Try Cisco Umbrella for 21 days,
risk free
Umbrella will give you broad, reliable network security across all ports, and are perfect for organizations where modern cloud applications and an increase in remote workers make a centralized security model impractical. Cisco Umbrella is priced to provide to provide immediate return-on-investment and has a low cost of ownership.
The First Secure Internet Gateway for the Cloud
Umbrella provides organizations with secure web gateway logs and keeps all your traffic fully visible and protected against malware attacks.
Protect All Your Users In Minutes
Umbrella is delivered from the cloud, so your users are protected immediately, no matter where they are located.
Real-time Defense For Your Cloud Environment
With Umbrella's DNS-layer protection, we use the internet's infrastructure to identify and block unwanted domains, traffic and applications before connection occurs. 
Eliminate Phishing, Block Malware, and Stop Ransomware
Umbrella puts an immediate halt to to malware, ransomware, phishing, and botnets before they can reach your network or endpoints. 
What's included with our Cisco Umbrella POV Experience
During the Cisco Umbrella POV, A Cerium FireJumper-certified Engineer will work with you to ensure that you get the most out of your experience.
Phase One: Plan
Envision the solution and define success criteria
Conduct an Umbrella architectural overview
Gather information for the solution
Phase Two: Configure your Umbrella Portal
Content Policy Configuration
Blacklist/Whitelist Configuration
Security Policy Configuration
Phase Three: Generate Umbrella Reports & Review Results
At the end of the 21-day POV Experience, Cerium's FireJumper-certified engineers will generate attack reports and review the results with you.
Cerium provides a non-disruptive way for you to see first-hand the benefits of Cisco Umbrella as well as expose gaps in your current security architecture in a no-cost experience.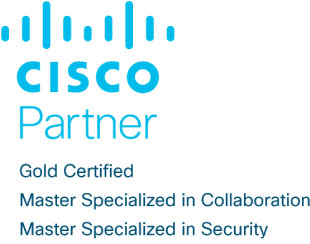 Cisco Gold, Master Security Certified
When it comes to cybersecurity, know-how and experience are critical. You need a trusted partner with proven, recognized expertise; Cerium is that partner.