The Case for Unified Communications
Cerium helps Crowley Fleck upgrade to a Cisco unified communications solution and take advantage of Cisco Jabber conferencing.
Crowley Fleck PLLP is one of the oldest and largest law firms in their region with offices throughout Montana, North Dakota, and Wyoming. The firm has nearly 300 personnel, with lawyers practicing in the areas of commercial litigation, insurance defense litigation, natural resources, mining and energy law, healthcare, commercial transactions, banking and nance, creditor's rights, real estate transactions and development, tax and estate planning and administration, intellectual property matters, employment law, governmental affairs, and lobbying. Crowley Fleck lawyers contribute thousands of hours of pro bono legal services to those in need, serve on state bar association boards, committees, and commissions, ABA committees, in the Wyoming State Legislature, and on countless local charitable and nonprofit boards. Their success is highlighted by their formidable ability and integrity. In fact, Crowley Fleck has 35 of its lawyers listed in "The Best Lawyers in America®."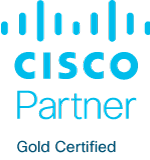 Cisco® ASA Firewalls for network connectivity and security
Two standalone Cisco UC systems that would be merged to the admin system when installed
Network refresh
Cisco Unified Messaging/Unified
Communications
Room video units, video bridging, and rewall traversal
Larry Ziler, IT Director for Crowley Fleck PLLP, offered a review of the partnership with Cerium Networks, and Cerium's impressive implementation of Crowley Fleck's new Cisco Unified Communications (UC) solution and network/infrastructure refresh.
Crowley Fleck came to Cerium with a need to upgrade their phone system and rebuild their communications network infrastructure. They were migrating from an end of life/end of service NEC 2000 ITS. With an end of life/end of service system, reliable functionality is difficult to achieve, replacement parts are hard to come by, and in the case of Crowley Fleck, service and support were unavailable.
The selection of Cisco for their UC solution was not a difficult choice for Crowley Fleck. "What it really came down to was the availability of people to service the system. With our previous system, it had become difficult to obtain service. Also, the cost value was exceptional," said Larry.
Deployment Challenges and Strategies
The biggest challenge anticipated in the initial deployment was how to keep offices communicating through the migration. At the time, Crowley Fleck had nine operational offices in three states. They didn't have the personnel to maintain the legacy NEC system and to keep the existing communication structure functional during the migration.
"In the end, we dealt with some loss of convenience, but no downtime. We eliminated the 4-digit dialing on the NEC systems during implementation." The migration was performed at an aggressive pace at 2–3 offices per week. The host site in Billings, MT was migrated last. Crowley Fleck split their IT department in half, sending one team east, and the other team west. A Cerium engineer was deployed with each of Crowley's IT teams to perform the Cisco configuration and implementation.
Larry described the migration and training plan as one created with some ingenuity, if not a good measure of ambition. "The implementation team would configure one night, pull plugs the next night, and conduct end user training the next morning." Simultaneous to the UC solution implementation, Cerium also installed new switch/route/firewall at each location, at the same time as the migration. Cerium also installed new communications servers at the host site (Billings, MT).
An unexpected opening of two new offices in Wyoming occurred during the deployment phase. Cerium's Jim Wilson and Mark Vogl "came up with a great plan to get those offices into play and add to the mix after the others. They started with a light version of Cisco UC hosted in the router," said Larry.
Video conferencing for each user has become the biggest benefit to Crowley Fleck, as well as becoming a culture-altering tool. Larry explains "in the legal industry, the amount of time spent traveling is time taken from something else — any time you can save time and money, it's a win. But this is also a communication value. The firm has grown to just under 300 personnel in the last four to 4–5 years, so it can be difficult to know who people are. The communication with the video presence and Jabber brings a community value. It bridges the gap between floors, buildings, and cities."
The video function for Crowley Fleck is enabled via the Cisco 8945 phones on user desks, with built-in display and cameras. User adoption of this feature has resulted in an increase in conferencing from 4–5 per year five years ago, to 4–5 per week at present. Conferences are primarily held with the court system but are increasing with internal communications across locations.
There are other functions which are a bigger impact on a smaller sector of personnel within Crowley Fleck. "The things we've implemented through Jabber have really helped our growth. We have people that are far more mobile, and some that are home office workers (full time). In fact, we have a person in Oregon, and she's a heavy contributor. She's set up with a full configuration for Cisco AnyConnect and Jabber for voice and video from her iPad. This kind of mobility has really opened us up to expand our business to other regions," said Larry.
Another beneficial function is the call routing capability, which is programmed through Cisco's Call Manager. This function enables routing of calls to their IT department's HELP desk personnel. "Our IT department is now spread out with personnel in multiple locations (Bismark, ND, Helena, MT etc.). It helps us communicate better as a department," explained Larry.
Quality Control (and the Perfect Problem)
Larry provided an interesting observation of user experience when the new Cisco UC solution was first deployed. "When we first implemented the system, the quality of the calls was so good internally, with Cisco to Cisco phones. People kind of complained because they didn't have any white noise and were a bit disarmed because they weren't used to this crisp quality. They had to get used to that sense that the caller was in the same room. We lose some of that when making outside calls, as a call is only as good as the lowest pipeline or device in the call." Despite this initial surprise at the touchable voice quality, the new system was well received by the user base with no real hiccups.
Larry reports that the video quality on the desk phones is equally impressive. "The camera on the phones is equal to that of the conference rooms. It's exceptional. It's rare that we have issues. We have 20MB pipes between offices. We have plenty of bandwidth."
The Partnership
Larry attributes several things to the successful, working partnership with Cerium:
Frequent communication between his team and the Cerium team
Ongoing interaction from Cerium with folks visiting to let us know what's new
Availability of Cerium support staff and Cerium engineers
Successful implementation
Satisfaction with our new system — to the point that we are happy to show it off to other Cerium customers. Larry says, "showing off this very successful system in action seems to foster a mutual respect with Cerium and other Cerium customers, and creates a great working partnership."
our element is communication
For non-emergency support requests, please click here to contact the Cerium Support Center (CSC).
Thanks for your interest in Cerium Networks. Please use this form if you have questions about our products and services and we'll get back to you soon.
Effective communication is the essential element found in all successful business relationships. Employee productivity and customer satisfaction can rise and fall based on this key element. Cerium is in the business of taking basic business communication to new levels of collaboration with our industry-leading solutions designed to keep workers and customers engaged. So, we understand the importance of effective communication.