Wi-Fi 6 is the standard in 802.11 wireless LAN technologies in the enterprise network. Wi-Fi 6 promises to deliver blazing-fast wireless speeds, up to 5.9 Gbps per wireless access point. And even more critical to the enterprise network, Wi-Fi 6 APs supports more than 1000 simultaneous authenticated clients. Wireless client density is placing a tremendous strain on today's 802.11 systems, and these clients are all screaming for more network bandwidth.
A common misstep among those investigating the role that Wi-Fi 6 will play in their network is to forget about the underlying LAN switching infrastructure. We pay attention to the power requirements of our new wireless access points, ensuring we are loading up our switches with significant and redundant power supplies. But are we forgetting about the 802.3bz mGig standard?
802.11ax Wireless Access Point Breakdown
If we look at some of the newly released 802.11ax Wi-Fi 6 wireless access points, we see the manufacturers all agree on two things, POE+ and 802.3bz mGig. Here is the breakdown:
Aruba AP 550
5.95 Gb/s with 8×8:8 MU-MIMO
1000/2.5G/5GBase-T Category 5E and 6 UTP
19 Watts 802.3at POE+
Aerohive AP 650
2.5+ Gb/s with 4×4:4 MU-MIMO
1000/2.5GBase-T Category 5E and 6UTP
19 Watts 802.3at POE+
Cisco AP 9120
5.3 Gb/s with 4×4:4 MU-MIMO
1000/2.5GBase-T Category 5E and 6UTP
25.5 Watts 802.3at POE+
Cisco Meraki AP MR55
5.9 Gb/s with 8×8:8 MU-MIMO
1000/2.5/5GBase-T Category 5E and 6UTP
22 Watts 802.3at POE+
Ruckus AP R730
5+ Gb/s with 8×8:8 MU-MIMO
1000/2.5/5GBase-T Category 5E and 6UTP
23.8 Watts 802.3at POE+
mGig is a Requirement for 802.11ax Wi-Fi 6
When we break down some of the newly released Wi-Fi 6 wireless access points, we observe that they all use a single mGig RJ-45 port (two if you want N+1 redundancy with the Aruba AP 550). This Ethernet port supports 2.5 and or 5 Gbps network speeds. So mGig is a vital LAN switching infrastructure requirement if your organization wants to truly take advantage of the bandwidth gains that Wi-Fi 6 promises to deliver.
What is this mGig Stuff All About?
You have to love the irony of the IEEE sometimes! The MGBASE-T standard has been named 802.3bz, adeptly named for the really busy (bz) multigigabit speeds over unshielded twisted pair cable. The IEEE standard details states that it is the transfer of Ethernet format frames at 2.5 Gb/s and 5 Gb/s over balanced twisted-pair transmission media used in structured cabling. So, I think it is essential for us to understand what the IEEE means by balanced twisted-pair cabling and what the ramifications are if any, to the UTP wiring in our networks.
According to the NBASE-T Alliance, a 45+ member consortium of industry leaders representing all aspects of the ecosystem that contributed to the IEEE 802.3bz standard, the NBASE-T specification and IEEE 802.3bz standard specifies the operation of 2.5 Gb/s and 5Gb/s Ethernet over Category 5E or Category 6 (or better) structured cabling. The NBASE-T alliance states that the technology was developed to bring multigigabit speeds to over 70 billion meters of installed structured cabling without any special considerations from the network's users.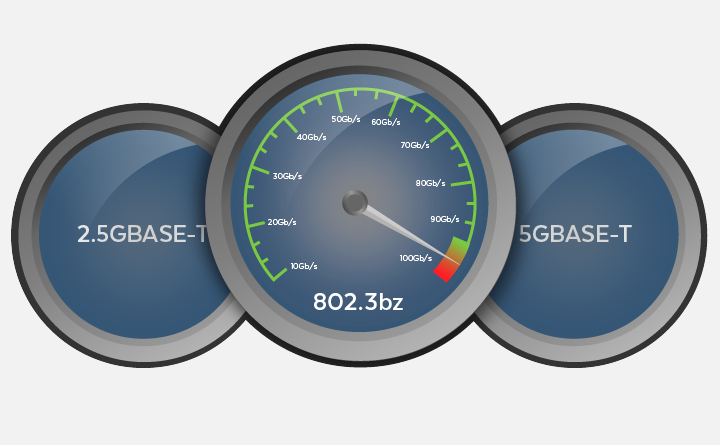 The 802.3bz Standard
The IEEE 802.3bz standard specifies operation at 2.5 Gb/s and 5 Gb/s over Category 5E and Category 6 (and better) cabling, provided the channel (i.e., the quality of the signals over the cable), meets specifications. The standard specifies that the 2.5 Gb/s rate is the maximum defined Cat5E bandwidth at 100 MHz. The 5 Gb/s rate exceeds the maximum Cat5E rating utilizing up to 200 MHz – but achievable over Category 5E in most real-life applications. And according to the NBASE-T Alliance, 5Gb/s rates can be achieved up to 100 meters in Category 5E wiring distances as long as alien crosstalk is not excessive.
By comparison, the 10GBase-T standard (IEEE 802.3 clause 55), specifies 10 Gb/s rates over Cat6 (55m), Cat6A (100m) and requires 400 MHz bandwidth.
Shut Up You Alien Crosstalkers!
Reliable data rates of 2.5 Gb/s, 5 Gb/s and YES, possibly even 10 Gb/s over Cat5E channels is usually achievable, but some installations will have challenges. Structured cable links are susceptible to noise from other cables in close contact called "alien noise." Alien noise is not crosstalk within the four pairs of twisted pair in a single Ethernet cable but is the effect of increased noise levels created by the tightness of the binding and the cable construction of multiple adjacent twisted pair cables. So, for example, your team has pulled 6 Cat5E wires down the raceway to your data closet. Alien crosstalk is created by the 6 Cat5E cables being installed and dressed into long, dense bundles. If you have a dense bundle (pairs running very close together over a long distance), cable-to-cable crosstalk might occur causing excessive bit errors and thus – link failure or the down-speed to a slower supported data rate.
NBASE-T Downshifting and Auto-Negotiation
While bit errors can be caused by other types of noise events such as lightning and power surges, these events are typically short term and won't usually trigger a new link auto-negotiation to a slower supported data rate (downshifting). Built into the 802.3bz standard is an auto-negotiation process that if excessive bit errors occur due to a noisy channel, re-negotiation occurs to a lower speed without manual intervention.
NBASE-T Downshift, along with the IEEE Auto-Negotiation, selects the best speed supportable under both static and dynamic noisy conditions. This technology built into the 802.3bz MGBASE-T standard allows the network to determine the best rate possible for a given cable environment and will change speeds when noise conditions change.
What About Your Environment?
In reviewing the LAN switching mGig and POE requirements of the new line of Wi-Fi 6 access points recently released by the industry, we determined that we don't have to run new data cabling – YAY! We might even get 10GBase-T working on our Cat 5E cable! But if we genuinely want to take advantage of the significantly increased bandwidth that Wi-Fi 6 delivers, our network's access layer switching must have mGig capabilities. When we look at the industry's line of available mGig switches, we also see that these new switching devices have big power supplies that will satisfy our other Wi-Fi 6 requirement – feeding the power-hungry 802.11ax wireless access points.
Wi-Fi 6 promises to be an amazing new technology for your IT network environment. Here's to hoping you achieve your networking goals and always have Amplitude, Enormity, and Magnitude in your zeros and ones.