In several recent posts, we've described many of the potential business benefits of SD-WAN, including better cloud connectivity, improved administration, increased network visibility and reduced costs. However, gaining approval for SD-WAN investments can be a tricky process.
When building a business case for SD-WAN, estimating a return on investment (ROI) is typically a key requirement. ROI is a metric for gauging the likely profitability of an investment, and most companies establish ROI targets as part of the approval process for any technology project.
Calculating the ROI of IT projects has always been a challenge, however. It can be quite difficult to establish direct links between technology investments and profits, especially in advance. Accurate ROI calculations typically require gathering and analyzing performance data over a fairly long timeline.
Cost and Efficiency Benefits
Despite these challenges, it is possible to demonstrate a compelling ROI for SD-WAN with an initial focus on cost reduction and improved operational efficiencies when compared to traditional WAN architectures. For example, SD-WAN enables remote network connections across broadband Internet, which are usually more than 90 percent less expensive than the private MPLS circuits required for WAN connections.
Beyond the circuit costs, SD-WAN drives additional reductions in operating costs with policy-based routing practices that intelligently steer cloud traffic without the need to backhaul traffic back to the data center. This reduces expenses related to managing and configuring WAN routers, switches and firewalls.
The WAN management burden also takes a toll on innovation. According to a recent Vanson Bourne study, 80 percent of IT decision-makers say their teams spend so much time on routine network management tasks that they are unable to carry out strategically important work that would benefit the company. As a result, they must routinely outsource services such as application management, infrastructure management and network management. SD-WAN eliminates many of these manual processes, unlocking the productivity of network managers.
The ROI Calculator
To help organizations assess the direct ROI benefits related to reduced costs and streamlined management, VMware developed an ROI calculator for SD-WAN. By entering information about your current WAN environment and your proposed SD-WAN solution, the calculator can quickly produce one-, three- and five-year savings calculations for connection, device and management expenses.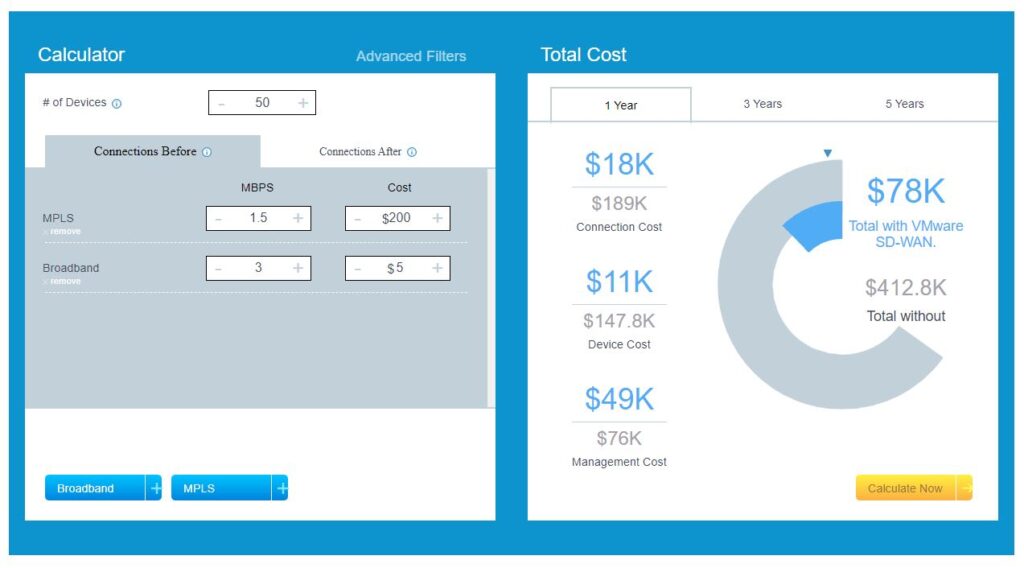 The VMware tool can provide a powerful, quantitative assessment of the very real financial benefits of SD-WAN. However, cost reductions and management improvements don't begin to address all of the technology's positive impacts on the business. It's difficult to accurately evaluate indirect benefits such as improved security, innovation and productivity.
In addition, the ability to support increasing cloud workloads is a clear business necessity, but it is difficult to quantify all the financial benefits. It's one thing to calculate savings from eliminating MPLS circuits and the need to backhaul traffic to the data center. However, it is hard to accurately calculate the financial benefits of direct cloud connectivity, improved application performance and increased visibility into application traffic.
When making the case for implementing an SD-WAN solution, the VMware calculator is a valuable tool for demonstrating direct savings. However, ROI can also be demonstrated through reduced operational efficiencies and streamlined business processes. 
Making the Case for SD-WAN
If you need assistance in developing a business case for SD-WAN or would like to explore your options, give us a call.