PowerStore Overview
If you have ever wished you had a storage solution that could run block and file workloads (SAN/NAS), scale-up and scale-out, run with active-active controllers for increased performance, achieve all-flash level performance, offer 4:1 data reduction (yes, really), and be upgraded with non-disruptively, it's time to consider upgrading your existing storage to Dell EMC PowerStore.
PowerStore is a next-generation, scalable, all-flash storage system. The solution comes in many flexible configurations and models to fit a variety of midrange storage needs. While the T series models are a great replacement for a traditional storage solution, and an upgrade from a typical SAN as it adds NAS capabilities built in, the PowerStore is also delivered in an X series model. The PowerStore X's software defined architecture runs VMware ESXi on-board and introduces AppsON functionality. Essentially, you can choose to run critical virtual machine workloads directly on the PowerStore appliance just like you would with a standard host, but with significantly better storage performance.
Cerium's Adoption
Cerium Networks, much like many other technology companies, heavily relies on their lab and demo systems. Our engineering department is deploying new technologies on a regular basis, and this traditionally has come at a cost. Whether we are spinning up new workloads to test out new functionality, need some extra training, or just want to show off solution functionality, we begin consuming a sizable footprint and need performance and reliability behind it.
For several years, our engineering lab has run on a couple VMware ESXi hosts with 1Gb network connectivity, and a VNXe 3200 that only had spinning disks (SAS HDDs) and minimal storage capacity. We were regularly having to shuffle our workloads around, deleting VMs not being actively being utilized, thus throwing away hours we had spent deploying lab systems, and having to clean up our ISOs and images repository living on our VNXe iSCSI datastore. We were constantly low on storage and performance was just ok.
Now, for a lab environment this worked. It wasn't an ideal setup, and it took some time and effort to maintain the environment, but overall, it was getting the job done.
As a datacenter fanatic, I knew there were other options available, but sometimes it's hard to justify upgrading a solution that technically is working even if it feels like we are needing to constantly apply band-aids to problems. When Dell EMC announced the PowerStore solution, it was interesting and exciting to see, but I'll admit I was skeptical on some of the marketing promises being presented. Data reduction, for example, has a 4:1 guarantee to significantly reduce your storage footprint. While this may come with some qualifiers just like any other data-reduction guarantee, I was still skeptical as usually 2:1 is considered an aggressive estimate.
When Cerium decided to make the investment in the PowerStore and get it stood up in our lab, I was ready to see how much the PowerStore could really do versus what Dell Sales and Marketing told me it can do.
System Implementation
We began planning the implementation and we were glad the architecture overall was a simple one. The 2U appliance, which is 2U for all models of PowerStore, meant a minimal footprint in my lab that already has limited rack space. We obtained the PowerStore 3000T unified-storage system and were able to fit 57TB of usable storage capacity into a 2U appliance with capabilities to do 10Gb or 25Gb network connectivity with LACP for added throughput and resiliency, I was impressed. No additional storage shelves were needed, meaning no need to shuffle all the equipment around in our racks to make this system fit.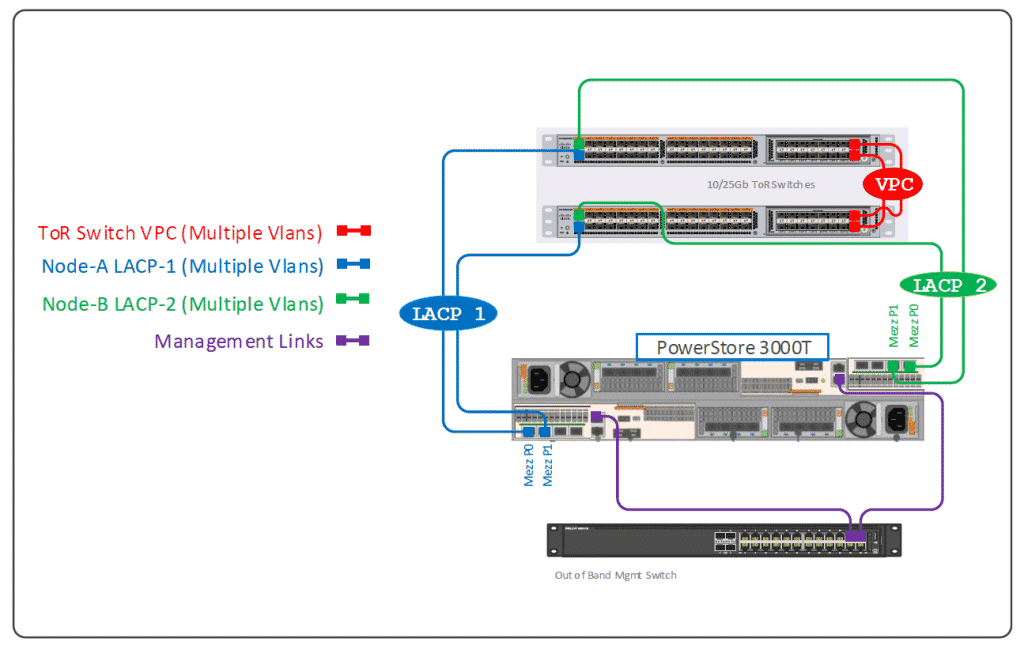 After some planning to identify IP addresses, hostnames, VLANs, etc. we were ready to get this system deployed. When I first started deploying storage systems several years ago, it would often take me a full day to get the controllers and disk shelves racked, there was a considerable amount of effort to cable everything in a nice manner and according to best practices, and sometimes the physical pieces of the installs would take about a day. From there, I usually had to spend another day or two to deploy the solution, and even more time to migrate workloads over to it.
With the PowerStore, we had it physically racked and cabled in no time, and we had it all deployed within a couple hours. We connected the storage to our vSphere lab systems, provisioned a few VMFS datastores and vVol datastores, snapshot protection policies, and more in no time. By the end of the day, I began migrating about 65 VMs, including a Horizon VDI environment, onto our new PowerStore storage. Within about a day, we had fully migrated our lab and already began seeing where the PowerStore was going to pay off.
PowerStore in Action
My first impressions after we migrated everything to the PowerStore were nothing short of amazed. I was ecstatic at how great our new storage solution was doing and how much it was going to help our engineering department. First off, our system really was getting the 4:1 data reduction guarantee from day 1 – screenshot from our own dashboard below.

Depending on the type of workloads we have running on the PowerStore at a given time, we've seen it drop to "only" 3.4:1, which is still far ahead of other storage solutions in the market.

Furthermore, I have hardly ever seen our storage latency cross 0.5ms in several months since deploying the system – screenshot from our own dashboard below.

Even at its worst, we have only hit 2ms of latency which is significantly better than what we were seeing with our VNXe and spinning disks.
All my virtual machines on vVols are shown natively within the PowerStore Manager web interface for additional VM insights – see screenshot from our dashboard below.
I can view the capacity consumption of individual VMs over an extended period, see the compute resource consumption of my VM, the individual VM files (vmdks, swap files, etc.), and perhaps my favorite piece, VM snapshots. When I take snapshots of these VMs, which is a frequent occurrence within a testing and lab environment, the snapshot execution is offloaded directly to the PowerStore whether it is created from vCenter or PowerStore Manager. There are no delta files, so it's all just pointer-based snapshots, providing significant benefits in a production environment – see screenshot from our dashboard below.

Finally, one of my favorite features overall is the ability to do non-disruptive upgrades. Cerium has a large engineering department. Since our migration we have grown to almost 140 VMs. We heavily rely on this environment to be available, especially when customer demos come up. As an engineer that spends enough time working around maintenance windows for customers, the last thing I want is another maintenance window I must consider for my own internal environment. With PowerStore, not once have I needed to worry about how a Thursday mid-day upgrade is going to impact my engineering team. Because the PowerStore is built on a software defined architecture and is all container-based, Dell pushes out updates on roughly a quarterly cycle. I've upgraded our PowerStore 5 times since we've implemented it last year and have had ZERO outages or downtime – screenshot from our dashboard below.

One Year Later
Now that we've had the PowerStore for almost a year, I'm able to reflect on how much it has helped Cerium and our engineering department. Adopting and investing in a new solution can be overwhelming and it's hard to see the value until the system has been installed. Whether you are interested in the PowerStore for its scalability, its ability to provide SAN and NAS storage, the performance benefits of an all-flash NVMe storage system, the 4:1 data reduction, or the non-disruptive upgrade capabilities, the solution itself clearly has plenty to offer and will be worth the long-term investment.