Headquartered in Spokane with seven offices distributed across the Northwest and in the Philippines, Cerium Networks needed a transformational approach to simplify branch office networking and reduce costs. Cerium selected VMware VeloCloud SD-WAN to unify its networks and deliver infrastructure modifications that simplify transport, enhance security, and increase overall efficiency. Kevin Heide, Cerium's Director of Enterprise Networking, and Greg Palmberg, Cerium's Director of IT and DevOps, discussed some of the aspects of the deployment.
Kevin talked about Cerium's motivation for the move, "Cerium Networks was looking for a simple, cost-effective and flexible SD-WAN solution for our organization. After a comparison of market leading solutions, VMware VeloCloud was chosen."
The VeloCloud platform is cloud-native and built on the underlying principle of abstracting the network hardware and transport characteristics from applications using the network. It offers cloud-based service delivery, orchestration, and analytics, enabling Cerium to create a flexible architecture that addresses today's demands with the ability to grow and evolve with the company.
According to Greg, "After conducting an extensive review of SD-WAN offerings in the industry, Cerium chose to move forward with VeloCloud. Technical superiority, ease of implementation, cost considerations, and partnerships were all critical factors in our decision-making process. As expected, the ease of implementation at each branch office was evident from the start and certainly met our expectations."
VMware SD-WAN by VeloCloud Platform
VeloCloud SD-WAN Platform simplifies configuring branches within the WAN and improves the performance and cost-effectiveness of the WAN. With separate orchestration, control, and data planes, the VeloCloud Platform uses encryption, authentication, and business policies on traffic for security.
The VeloCloud SD-WAN platform includes:
VeloCloud Edge: A compact, easy-to-install device that provides secure, optimized connectivity to applications and data.
VeloCloud Gateway: Deployed at cloud data centers worldwide, VeloCloud gateways provide scalability, redundancy, and flexibility; optimize data paths to all applications, branches, and data centers; and deliver network services from the cloud.
VeloCloud Orchestrator: Delivers network-wide business policy creation, distribution, and enforcement based on applications, traffic, and network conditions.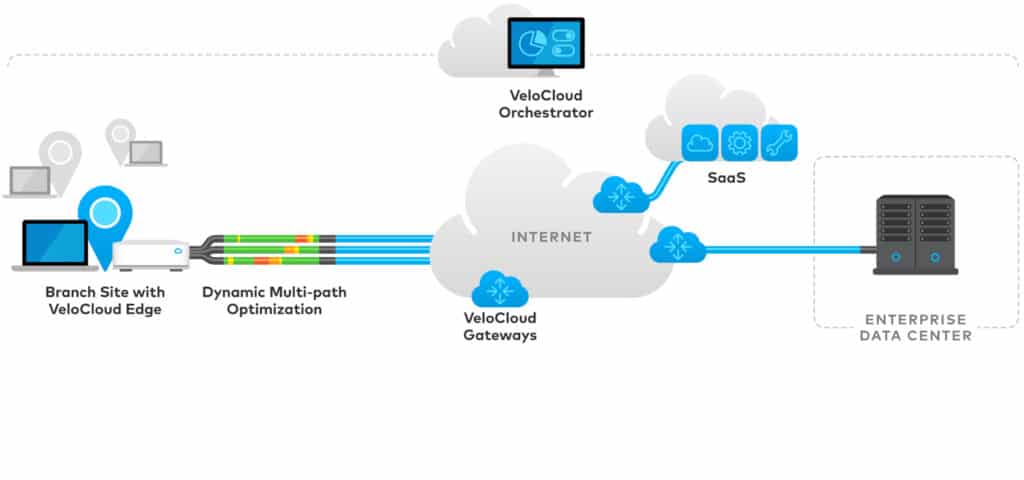 In Greg's view, "The VeloCloud Edge devices were very easy to implement. They have a small footprint, simple interfaces, and easy-to-follow guidelines, making the installation process a breeze. Managing and monitoring the network from the Orchestrator portal is straightforward. The UI is simple and provides a great view into the overall health of the network, traffic flow, etc."
Kevin added his thoughts on VeloCloud's ease of deployment, "Utilizing hosted VeloCloud Orchestrators and the ability to deliver and deploy VeloCloud Edge devices without an engineer traveling to each site, Cerium was able to complete the initial rollout in a matter of weeks. With the ability to size the VeloCloud Edge devices separate from the licensing, it allowed us room to grow without reinvestment into physical devices."
Deploying VeloCloud SD-WAN
Multiple factors influenced Cerium's deployment decisions, including the makeup of remote sites as well as the number and types of applications, servers, and workloads expected to transverse the WAN.
"If proper time is spent gathering and understanding requirements and incorporating those needs into the overall design, the implementation of SD-WAN across our network was not difficult or time-consuming. Good planning is key to a smooth, successful rollout," Greg observed.
The deployment team compiled network requirements and determined how applications would interact with distributed resources across the LAN, WAN, customer networks through managed services, and Software as a Service (SaaS) providers. Realtime streaming protocols such as video, voice, and high-performance custom line of business applications were identified and prioritized to optimize user experiences.
"During our migration to VMware VeloCloud, we also migrated from expensive MPLS circuits to commodity Direct Internet Access (DIA) and Broadband Internet connections. However, circuit delivery did not always align with our desired schedule. The ability to design and deploy our network regardless of existing or new connectivity methods helped speed up deployment into our current production state," Kevin explained.
Results
VeloCloud securely and efficiently connects all Cerium's branches with a cloud-delivered solution utilizing lower cost, higher bandwidth, and physically disparate connections to increase resiliency. The VeloCloud deployment enabled Cerium to simplify and optimize its WAN while offering users immediate and significant benefits of a robust, secure, and scalable network while greatly reducing costs.
Greg spoke about the benefits VeloCloud SD-WAN offers Cerium, "By utilizing redundant, low cost dedicated internet access (DIA) circuits at each location, Cerium was able to migrate away from expensive MPLS circuits, greatly increase bandwidth, increase network resiliency, and improve traffic shaping all while achieving significant cost savings. It was a huge win-win for Cerium Networks from all aspects."
"Through the use of Dynamic Multipath Optimization (DMPO), we are already seeing the benefits of consistently high Quality of Experience (QoE) during new circuit provisioning and migration without the downtime typically associated with circuit replacement. We are no longer dependent on a single carrier providing the high level of service we require," Kevin added.
Making the Business Case for SD-WAN
We can help you make a business case for moving from traditional router-centric architecture to a business-first networking model SD-WAN.